Main Page
From Unofficial Fantasica Wiki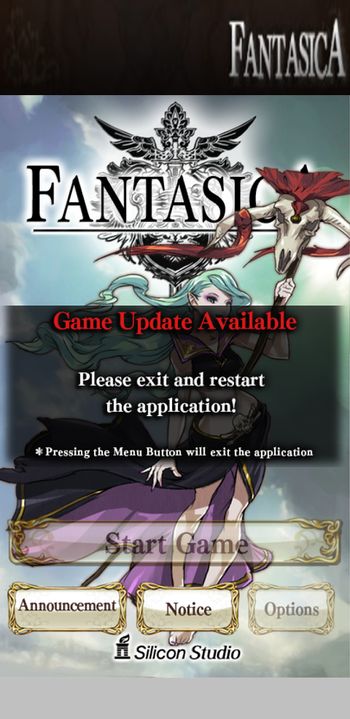 This is a problem been attacking players this week. If you find yourself suffering too, here are the solutions discovered so far:
1. Exit the app a few times
2. Restart your phone
3. Wait about 2 hours and try again
4. Last resort (didn't help anyone, but standard fanta reaponse) uninstall and reinstall.
New/Updated Sales Pages
THINGS TO UPDATE
Working on new skills
If you reach a new skill level please either update the wiki or Screenshot (SS) the new skill requirements and send to armygirl691 through kik.
Identifying Missing Sprites, Card fronts, Card Backs.
(Please leave in User:armygirl691 discussion section. Updating missing or misspelled units is a difficult task and will take time. I am currently working on labeling every unit, monster, item that fanta has released which is over 40,000 items.)
CALLING ALL EDITORS
Do you want to help out with the wiki but don't know how to get started?
Contact Jarrbox via kik or in-game or send a message to Kittylitter and we can help answer any questions you may have!
You can find the contact information for Jarrbox here: User:Jarrbox
You can find the contact information for Kittylitter here: User:Kittylitter

Important Links:
All the raw uploads: https://drive.google.com/drive/folders/0B5ZFIbihktiuSW5pOXlpa0N6UmM
Recent Uploads: http://www.fantasicawiki.com/wiki/Special:NewFiles
Create New Units: http://fantasicawiki.com/edit.php?
What's New?
Want to Help? Editing Tips!
The Editing Tips page has been UPDATED to include additional assistance.
The Missing Stats page has been UPDATED to be more user-friendly! Any max or max level broken stats for units or monsters is greatly appreciated in the community.
For anyone looking to add Ascension stats, check out Editing Ascension Stats.
Help is always appreciated! :)
Wiki Editor Contact Board
The Wiki Editor Contact Board is up! If you have any questions, concerns, statistics for units, or if you happen to notice any discrepancies on the site, please feel free to visit this section and contact one of your wiki editors!
Thank you for helping us make the wiki as wonderful as it can be!