Main Page
From Unofficial Fantasica Wiki
Important Announcement - Game Closure
As many of you might already know, MyNet announced on January 27th at 10:00 PM PST that the game will be shut down due to discontinued support for the engine that Fantasica runs on. Purchases will be disabled on 2/25/19 at 10:00 PM PST and the final closure will be on 3/31/19 at 10:00 PM PST.
It was a joy being able to work with this community to build one of the best wikis I've seen for a game by far. Since its creation, the wiki has expanded and improved in a positive way. It's unfortunate that it had to be cut short due to technical limitations.
Although Fantasica is ending, that doesn't mean the friendships made on this game have to end with it! If you decide to keep in contact with the people you met in this game, make sure to get their contact information before March 31st, 2019 at 10:00 PM.
If you're interested, a discord was created for the wiki (a long time ago but I didn't know what I was doing so it's a mess) so if you want to join it to keep in touch with other players feel free to do so: https://discord.gg/eZpVkqM
See you all on the other side!
PS- I will still edit the wiki in case there are any updates from now until the end and will upload any screenshots of card backs or stats if you'd still like to contribute.
Official Notice of Closure
|}
Petition for Change
If you want to support changing fanta, consider signing the petition.
https://www.change.org/p/silicon-studio-make-fantasica-great-again?recruiter=836518341&utm_source=share_petition&utm_medium=copylink&utm_campaign=share_petition
---
Getting Started
Are you new to the game and want to know how to catch up?
Do you want to create a sales page on the wiki but don't know where to start?
Well look no further! The Getting Started page is finally here!
Other Useful Links:
CLICK HERE if you're having game problems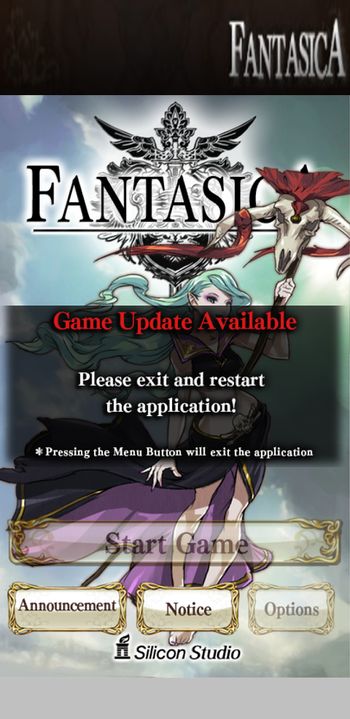 This is a problem been attacking players this week. If you find yourself suffering too, here are the solutions discovered so far:
1. Exit the app a few times
2. Restart your phone
3. Wait about 2 hours and try again
4. Last resort (didn't help anyone, but standard fanta response) uninstall and reinstall.
Wiki Editors Need Your Help!

Any contribution you make to the wiki is greatly appreciated. Thank you for helping make the Unofficial Fantasica Wiki the greatest it can be!
Help Out on the Wiki
Editing
Useful Links

If you have any questions, comments, concerns, or if you happen to notice any discrepancies on the site, please feel free to visit the Wiki Editor Contact Board for information on contacting a wiki editor!
Announcements
Find the current feed of the official Fantasica announcements here: http://fantasicawiki.com/notice.php