The Halls of Valhalla
From Unofficial Fantasica Wiki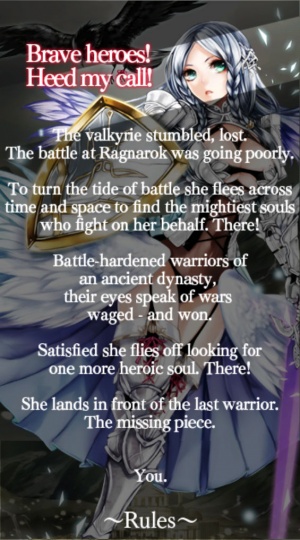 Event Description
The Halls of Valhalla consists of 100 floors. In the Halls, you wil encounter a boss every 10 floors.
Defeat all the bosses and ascend to the top floor!
Defeat the final boss on the 100th floor to clear the Halls of Loki and his kin.
Defeating each of the bosses will earn you a reward. Clear the Halls to receive a special unit card!
There are multiple rewards for clearing all 100 floors. The reward you receive will be determined at random starting from your second playthrough. Good luck!
Card rewards will be sent to your Unit List. If your Unit List is full, rewards will be sent to your Inbox instead.
Event Schedule
The Halls of Valhalla will start on December 28, 2012, after maintenance and end on January 7, 2012 at 2:00am PST
These times may be subject to change. All Rank Rewards will be awarded after the event has ended.
Combat in the Halls of Valhalla
Inside the Halls, only one of your units, along with the Leader Units of up to 3 allies, will be capable of participating in combat.
Each boss will have an element (Land, Sea, or Air) tied to them.
Choosing units that each boss is weak against will go a long way to assuring your success in the Halls
BT Pts
Each floor you clear will earn you BT Pts
You can earn greater amounts of BT Pts by clearing Boss floors.
Bosses do not regenerate hit points between battles, so you can continue to challenge them until victorious.
However, the fewer attempts it takes to defeat a boss, the more BT Pts you will earn.
Event Artifact - Feathers of Light
When you clear a floor, you have a chance to receive a Feather of Light - an event specific artifact.
There are 7 Feathers of Light for you to collect.
Which Feather you will receive is determined randomly.
Collect all the Feathers of Light to receive a rare, event-specific card.
You can only receive a card for completing the event artifact set once.
You can also collect Feathers of Light by battling other players.
Choose opponents that have Feathers you still need to collect and battle them. If you win, you will take their Feather for your own.
On the other hand, lose in battle to another player and you can have your own Feathers stolen.
Even after the event has finished, you will still be able to check your stock of Feathers of Light through your artifacts page.
Reward


★★★★
Sigurd
The Romance of the Three Kingdoms Units
Deploying one of the limited-edition, Romance of the Three Kingdoms units within the event will grant you a bonus to your BT Pts depending on the rarity of the unit.
The amount of bonus BT Pts depends on the rarity of your rarest Romance of the Three Kingdoms unit deployed.
You will not receive a BT Pt bonus from your friend's Romance of the Three Kingdoms unit. The bonus applies only to your own units.
You can only receive the Romance of the Three Kingdoms BT Pt boost when you successfully clear a floor within the event. "You receive no bonus points if you fail.
| Rarity | Bonus BT Pts |
| --- | --- |
| ★★★★★★ | +100 BT Pts |
| ★★★★★ | +70 BT Pts |
| ★★★★ | +40 BT Pts |
Cooldowns Within the Halls of Valhalla
Clearing, or attempting to clear a floor, will incur a Cooldown.
However, this cooldown will be handled separately from your normal Quest or Battle cooldown.
While cooldown will diminish over time, you can also use a Time Elixir to instantly set a cooldown time to zero.
Ranking
Rank will be determined by the amount of BT Pts you have earned.
You can view your rank and the rank of the top 10 players via the Ranking page.
There is no limit to the number of times you can clear the Halls, so strap on your helmet and get to work, soldier!
As it may take some time for Rankings to update, there may be some discrepancy between what is shown on the Ranking page and the actual, final player rankings.
Changes to player rankings may take up to 30 minutes to update.
Bosses
Floor Rewards and Bosses
Rewards
Reward Units
Unit
★
Type
C
S
R
Skill
Source
Rank Rewards

Loki
6
Magic
30
D
150
82,790
82,790
82,790
Slow
The Halls of Valhalla
Rank Reward + Recruitment
1st - 30th

Fenrir
6
Melee
25
B
130
76,255
56,370
76,220
Poison
The Halls of Valhalla
Rank Reward + Recruitment
1st - 75th

Lana
5
Missile
25
C
150
30,000
33,575
25,900
Slow
The Halls of Valhalla
Rank Reward
1st - 200th
Lap Rewards

Sleipnir
5
Melee
20
C
130
38,250
18,250
30,050
Knockback
The Halls of Valhalla
Lap 1 Clear Reward
+ Recruitment

Garm
4
Missile
20
D
175
23,579
25,994
17,900
Knockback
The Halls of Valhalla
Random Lap 2+ Reward
+ Recruitment

Hraesvelgr
4
Missile
10
D
150
18,357
21,164
12,226
Area Attack
The Halls of Valhalla
Random Lap 2+ Reward
+ Recruitment

Jormungand
4
Magic
30
D
150
25,952
16,292
23,507
Poison
The Halls of Valhalla
Random Lap 2+ Reward
+ Recruitment
Artifact Set Reward

Sigurd
4
Melee
25
C
130
25,187
18,219
12,196
Knockback
The Halls of Valhalla
Artifacts Set Reward
Rank Rewards
| | | | | | | |
| --- | --- | --- | --- | --- | --- | --- |
| | ★★★★★★ | ★★★★★★ | ★★★★★ | | | |
| 1st | 6★ Loki | 6★ Fenrir | 5★ Lana | Soul Stone (L) x 7 | | |
| 2nd - 5th | 6★ Loki | 6★ Fenrir | 5★ Lana | Soul Stone (L) x 5 | | |
| 6th - 10th | 6★ Loki | 6★ Fenrir | 5★ Lana | Soul Stone (L) x 3 | | |
| 11th - 30th | 6★ Loki | 6★ Fenrir | 5★ Lana | | | |
| 31st - 50th | | 6★ Fenrir | 5★ Lana | Soul Stone (L) x 3 | | |
| 51st - 75th | | 6★ Fenrir | 5★ Lana | | | |
| 76th - 100th | | | 5★ Lana | Soul Stone (L) x 3 | | |
| 101st - 200th | | | 5★ Lana | | | |
| 200th - 500th | | | | | Time Elixir (P) x 5 | Premium Ticket x 5 |
| 501st - 1000th | | | | | Time Elixir (P) x 4 | Premium Ticket x 4 |
| 1001st - 1500th | | | | | Time Elixir (P) x 3 | Premium Ticket x 3 |
| 1501st - 2500th | | | | | Time Elixir (P) x 2 | Premium Ticket x 2 |
| 2501st - 3500th | | | | | Time Elixir (P) x 1 | Premium Ticket x 1 |
| 3501st - 5000th | | | | | Time Elixir (P) x 2 | |
| 5001st - | | | | | | Premium Ticket x 1 |
Top 10