Oath of the Brave
From Unofficial Fantasica Wiki
Event Info
Oath of the Brave is a co-op event where all players kill monsters to earn BT Pts.

To participate in the event, simply press the "Oath of the Brave" button found on your main page.
Complete quests and Unity Trials to earn BT PTs for yourself and the community. As the total number of BT Pts increases, Oath Panels will open and bestow rewards on all players participating in the event.
The amount of BT Pts you can earn varies depending on the quest.
Even if you fail a quest, you can still receive a set amount of BT Pts.
Some time may be required before BT Pt totals update.

Oath Panels hide rewards. Work together and also compete with other players to win your rewards. In the process, you'll unlock panels and receive the rewards!
Panel rewards will be sent to your Inbox.
Event-exclusive Titles can be found on your Profile page under Edit Title → Achievements.
Event Schedule
Start

April 30th 2015, post-maintenance

End

May 3rd, 2015, maintenance
Bonus BT points
Bonus BT points are awarded based on the single highest-rarity special event unit that you deploy. Bonuses do not stack, and your allies' units do not count.
The bonus appears to be:
4-star unit: 1.1x multiplier
5-star unit: 1.25x multiplier
6-star unit: 1.5x multiplier
7-star unit: 2x multiplier
8-star unit: 2.5x multiplier
9-star unit: 2.75x multiplier
BT Tracking Spreadsheet
New Units
The following new units in Extreme Packs Season 13 gave bonus BT points in Oath of the Brave event:
Unit
★
Type
C
S
R
Skill
Source
Extreme Packs Season 13

Damaris
9
Melee
30
C
130
250,012
175,978
203,736
Poison,

Frenzy
Extreme Packs Season 13
One Shot Packs 14
Unlimited Challenger Packs 8
One Shot Packs 27
One Shot Packs 61
One Shot Packs 85
OP Unit Exchange
OP Unit Exchange 5

Aisling
8
Magic
30
B
175
179,574
148,057
122,423
Poison,

Gravity Pulse
Extreme Packs Season 13
Dream Packs Season 78
5 Star Plus Packs 9
Mini Revival Packs 4
Mini Winds Packs
Standard Card Packs

Odalis
7
Missile
15
C
130
0
0
0
Knockback,

Quad Attack
Extreme Packs Season 13
Dream Packs Season 75
Mini Moonlight Packs

Arlo
6
Melee
30
S
110
72,795
54,815
53,050
Poison,

Riposte
Standard Card Packs
Added during Oath of the Brave

Yesenia
5
Melee
15
S
130
22,050
24,350
28,500
Poison
Standard Card Packs
Added during Oath of the Brave
Reward Units
Unit
★
Type
C
S
R
Skill
Source
Rank Rewards

Itylra
8
Melee
30
A
130
152,283
154,000
132,665
Knockback,

Drain Attack
Oath of the Brave
Group Rank Reward
1st - 15th

---

30 units awarded

Anjura
7
Melee
20
C
110
117,208
99,653
115,668
Knockback,

Quad Attack
Oath of the Brave
Group Rank Reward
1st - 100th

---

200 units awarded

Faelyn
6
Missile
25
C
150
0
0
0
Knockback,

Speed Order
Oath of the Brave
Group Rank Reward
1st - 350th

---

700 units awarded

Peryton
5
Magic
15
D
150
32,150
31,100
30,050
Area Attack,

Stone Breath
Oath of the Brave
Group Rank Reward
1st - 2000th

---

4000 units awarded
BT Point Rewards

Ulfric
8
Melee
30
C
130
200,924
158,255
124,140
Poison,

Nerve Strike
Oath of the Brave
6,500,000 BT Point Reward

Elenaril
7
Melee
20
C
130
123,321
95,815
80,558
Slow,

Iron Wall
Oath of the Brave
5,000,000 BT Point Reward

Glynnii
5
Melee
20
C
130
35,200
30,600
27,025
Poison,

Double Attack
Oath of the Brave
200,000 BT Point Reward
Bosses
Boss
★
Type
EVENT ITEM
BT Pts
Exp
Luna
BT per ITEM

Calcitrare_m
4
D
C
B
1
2,500
1,500
7,500
2,500

Margot_m
4
C
C
D
1
2,500
1,200
12,500
2,500

Aliante_m
5
D
B
C
1
3,000
1,200
10,000
3,000

Elphaba_m
6
D
B
B
2
8,000
3,000
25,000
4,000

Khala_m
6
B
B
C
3
15,000
4,800
40,000
5,000

Carla_m
7
A
C
B
4
22,000
7,200
60,000
5,500

Yamato_m
7
A
B
D
5
30,000
10,500
87,500
6,000

Sindorella_m
8
A
A
C
6
40,000
14,400
120,000
6,667

Locasta_m
8
A
C
A
8
55,000
24,000
200,000
6,875
Hippolyte is a special boss that can only be damaged by event units.

Hippolyte_m
6
C
B
B
3
5
7
10
25,000
45,000
70,000
110,000
7,200
13,500
21,000
36,000
60,000
112,500
175,000
300,000
8,333
9,000
10,000
11,000
Rewards
Panel Rewards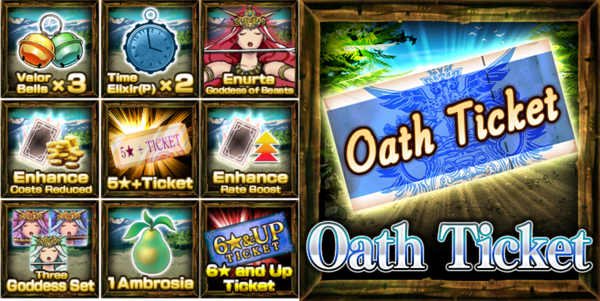 BT Rewards
BT Pts
Reward
5,000
Valor Bells x 5
10,000
Time Elixir (P) x 3
15,000
Title - Brave Fencer
20,000
Epona x 1
30,000
Potion (P) x 3
40,000
Valor Bells x 7
50,000
Ambrosia x 2
60,000
4★+ Ticket x 1
70,000
Anu x 1
80,000
Danu x 1

BT Pts
Reward
90,000
Valor Bells x 8
100,000
Tartu x 1
120,000
Valor Bells x 10
140,000
Title - The Final Witness
170,000
4★+ Ticket x 1
200,000
5★ Glynnii
300,000
Valor Bells x 10
400,000
Enurta x 1
500,000
Potion (P) x 7
600,000
Valor Bells x 12

BT Pts
Reward
700,000



Goddess Set x 1
800,000
Time Elixir (P) x 7
1,000,000
5★+ Ticket x 2
1,200,000
Potion x 5
1,500,000
Valor Bells x 15
1,700,000
Soma x 1
2,000,000
6★ and Up Ticket x 1
2,500,000
Time Elixir x 5

BT Pts
Reward
3,000,000
Soma x 2
3,500,000
Ichor x 1
5,000,000
7★ Elenaril
6,500,000
8★ Ulfric