An Otherworldly Invitation
From Unofficial Fantasica Wiki
Event Info
An Otherworldly Invitation is a co-op event where all players work together to earn BT Pts and open panels for amazing rewards!

To participate in the event, simply press the "An Otherworldly Invitation" button found on your main page.
Complete quests and Spirit Quests to earn BT Pts for yourself and the community. As the total number of BT Pts increases, Spirit Panels will open and bestow rewards on all players participating in the event.
The amount of BT Pts you can earn varies depending on the quest.
Even if you fail a quest, you can still receive a set amount of BT Pts.
Some time may be required before BT Pt totals update.
Spirit Panels hide rewards. Work together and also compete with other players to win your rewards. In the process, you'll unlock panels and receive the rewards!
Panel rewards will be sent to your Inbox.
Event-exclusive Titles can be found on your Profile page under Edit Title → Achievements.
Event Schedule
Start

July 22nd, 2015, post-maintenance

End

July 25th, 2015, maintenance
Bonus BT points
Bonus BT points are awarded based on the single highest-rarity special event unit that you deploy. Bonuses do not stack, and your allies' units do not count.
The bonus appears to be:
3-star unit: 1.05x multiplier
4-star unit: 1.1x multiplier
5-star unit: 1.25x multiplier
6-star unit: 1.5x multiplier
7-star unit: 2x multiplier
8-star unit: 2.5x multiplier
9-star unit: 2.75x multiplier
10-star unit: 3x multiplier
BT Tracking Spreadsheet
New Units
The following new units in Extreme Packs Season 26 and Otherworld Packs gave bonus BT points in the An Otherworldly Invitation event:
Unit
★
Type
C
S
R
Skill
Source
Extreme Packs Season 26

Hecate
10
Magic
30
C
150
281,165
275,270
287,639
Poison
Extreme Packs Season 26
Ultimate Plus Packs 27
10★ Ticket Exchange
Dream Packs Season 100
Untradeable

Kenna
9
Melee
30
C
130
264,834
199,131
175,970
Knockback,

Incinerate
Extreme Packs Season 26
8★ Plus Packs 4
OP Unit Exchange 2

Venera
8
Missile
30
C
150
156,112
175,356
139,003
Slow,

Quad Attack
Extreme Packs Season 26

Marche
7
Missile
15
C
150
85,888
98,089
74,788
Knockback,

Quad Attack
Extreme Packs Season 26

Althena
6
Melee
20
C
130
0
0
0
Slow,

Pariah
Standard Card Packs
Added during An Otherworldly Invitation

Ellis
5
Melee
25
A
110
0
0
0
Poison,

Blood Pact
Standard Card Packs
Added during An Otherworldly Invitation
Otherworld Packs

Blair
9
Magic
25
D
175
189,853
242,616
206,523
Poison,

Acid Rain
Otherworld Packs
Challenger Packs 51
OP Unit Exchange 2
Reward Units
Unit
★
Type
C
S
R
Skill
Source
Rank Rewards

Izanami
9
Magic
30
C
150
210,681
180,598
247,694
Poison,

Atk Boost (Male),

Penta Attack
An Otherworldly Invitation
Group Rank Reward
1st - 15th

---

30 units awarded

Beladona
8
Magic
15
D
150
156,567
130,552
111,315
Poison,

Speed Order
An Otherworldly Invitation
Group Rank Reward
1st - 30th

---

60 units awarded

Arjuna
7
Missile
25
C
175
128,736
114,910
99,702
Knockback,

Critical Shot
An Otherworldly Invitation
Group Rank Reward
1st - 150th

---

300 units awarded

Goetha
6
Melee
15
A
130
68,350
79,575
58,170
Slow,

Backstab
An Otherworldly Invitation
Group Rank Reward
1st - 500th

---

1,000 units awarded

Hallow
5
Missile
10
C
150
29,100
33,750
22,050
Poison,

Critical Shot
An Otherworldly Invitation
Group Rank Reward
1st - 2,000th

---

4,000 units awarded
BT Point Rewards

Persephone
8
Magic
30
C
150
173,162
143,347
128,410
Slow,

Fire Storm
An Otherworldly Invitation
6,500,000 BT Points Reward
Untradeable

Obelyn
7
Magic
30
D
150
97,782
130,239
104,274
Area Attack,

Chain Lightning
An Otherworldly Invitation
5,000,000 BT Points Reward
Bosses
Boss
★
Type
EVENT ITEM
BT Pts
Exp
Luna
BT per ITEM

Slaughter_m
8
A
B
A
8
55,000
24000
200,000
6,875
Grey is a special boss that can only be damaged by event units.

Grey_m
6
D
C
C
3
5
7
10
25,000
45,000
70,000
110,000
7,200
13,500
21,000
36,000
60,000
112,500
175,000
300,000
8,333
9,000
10,000
11,000
Vomer is a special boss, and could only be defeated once.

Vomer_m
8
B
B
C
3
5
7
10
25,000
45,000
70,000
110,000
7,200
13,500
21,000
36,000
60,000
112,500
175,000
300,000
8,333
9,000
10,000
11,000
Belphegor is a special boss, and could only be defeated once.

Belphegor_m
6
B
C
A
3
5
7
10
25,000
45,000
70,000
110,000
7,200
13,500
21,000
36,000
60,000
112,500
175,000
300,000
8,333
9,000
10,000
11,000
Obscurity is a special boss, and could only be defeated once.

Obscurity_m
9
S
A
S
3
5
7
10
25,000
45,000
70,000
110,000
7,200
13,500
21,000
36,000
60,000
112,500
175,000
300,000
8,333
9,000
10,000
11,000
Vomer was a boss added for the final day of the event.

Vomer_m
8
B
B
C
3
30,000
7,200
60,000
10,000
Rewards
Panel Rewards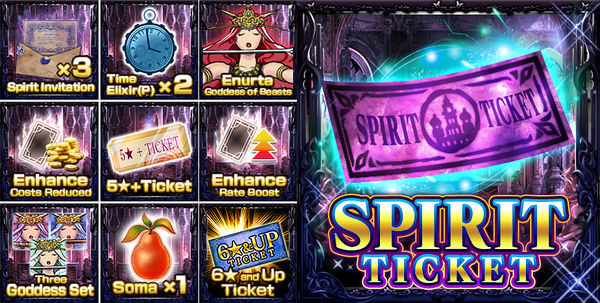 BT Rewards
BT Pts
Reward
5,000
Spirit Invitation x 5
10,000
Time Elixir(P) x 3
15,000
Friend to Ghosts
20,000
Epona
30,000
Potion(P) x 3
40,000
Spirit Invitation x 7
50,000
Ambrosia x 2
60,000
4★+ Ticket x 1
70,000
Anu
80,000
Danu
90,000
Spirit Invitation x 8

BT Pts
Reward
100,000
Tartu
120,000
Spirit Invitation x 10
140,000
Shadow Whisperer
170,000
4★+ Ticket x 2
200,000
5★+ Ticket x 1
300,000
Spirit Invitation x 10
400,000
Enurta
500,000
Potion(P) x 7
600,000
Spirit Invitation x 12
700,000
Anu
800,000
Time Elixir(P) x 7

BT Pts
Reward
1,000,000
5★+ Ticket x 2
1,200,000
Potion x 5
1,500,000
Spirit Invitation x 15
1,700,000
Soma x 1
2,000,000
6★+ Ticket x 1
2,500,000
Time Elixir x 5
3,500,000
Ichor x 1
4,000,000
Aurora Essence x 1
5,000,000
7★ Obelyn
6,500,000
8★ Persephone
Group Rank Rewards
Based on rank as of July 25th, 2015 at 2:00am PST
Rank

★★★★★★★★★

★★★★★★★★

★★★★★★★

★★★★★★

★★★★★




















1st
9★ Izanami
8★ Beladona
7★ Arjuna
6★ Goetha
5★ Hallow
Into the Shadows
From the Dark Depths
Beyond the Pale
Pale Shade
Aurora Essence x 20
Ichor x 30
Soma x 40
10★ Ticket x 3
6★+ Ticket x 3
TBD
2nd - 5th
9★ Izanami
8★ Beladona
7★ Arjuna
6★ Goetha
5★ Hallow
From the Dark Depths
Beyond the Pale
Pale Shade
Aurora Essence x 15
Ichor x 20
Soma x 30
10★ Ticket x 2
6★+ Ticket x 1
TBD
6th - 15th
9★ Izanami
8★ Beladona
7★ Arjuna
6★ Goetha
5★ Hallow
From the Dark Depths
Beyond the Pale
Pale Shade
Aurora Essence x 10
Ichor x 15
Soma x 20
10★ Ticket x 2
TBD
16th - 30th
8★ Beladona
7★ Arjuna
6★ Goetha
5★ Hallow
From the Dark Depths
Beyond the Pale
Pale Shade
Aurora Essence x 10
Ichor x 10
Soma x 15
10★ Ticket x 1
TBD
31st - 50th
7★ Arjuna
6★ Goetha
5★ Hallow
From the Dark Depths
Beyond the Pale
Pale Shade
Aurora Essence x 7
Ichor x 5
Soma x 10
10★ Ticket x 1
6★+ Ticket x 1
TBD
51st - 75th
7★ Arjuna
6★ Goetha
5★ Hallow
Beyond the Pale
Pale Shade
Aurora Essence x 5
Ichor x 3
Soma x 7
6★+ Ticket x 1
TBD
76th - 100th
7★ Arjuna
6★ Goetha
5★ Hallow
Beyond the Pale
Pale Shade
Aurora Essence x 3
Soma x 5
6★+ Ticket x 1
TBD
101st - 150th
7★ Arjuna
6★ Goetha
5★ Hallow
Beyond the Pale
Pale Shade
Aurora Essence x 1
Soma x 3
6★+ Ticket x 1
TBD
151st - 250th
6★ Goetha
5★ Hallow
Beyond the Pale
Pale Shade
Soma x 2
6★+ Ticket x 1
TBD
251st - 500th
6★ Goetha
5★ Hallow
Pale Shade
Soma x 1
5★+ Ticket x 3
TBD
501st - 750th
5★ Hallow
Pale Shade
Soma x 1
5★+ Ticket x 2
TBD
751st - 1,000th
5★ Hallow
Pale Shade
Ambrosia x 10
5★+ Ticket x 1
TBD
1,001st - 2,000th
5★ Hallow
Ambrosia x 5
TBD
2,001st - 3,000th
Ambrosia x 3
5★+ Ticket x 2
TBD
3,001st - 4,000th
Ambrosia x 1
5★+ Ticket x 1
TBD
4,001st - 5,000th
Time Elxir(P) x 1
TBD
No rewards past 5,001st
Winners