User:Animestar5000
From Unofficial Fantasica Wiki
IGN:
animestar5000
KIK:
animestar5000
ID:
50757609
Animestar5000's Memorial Page
Hi guys! So, I decided to take down my sales because there really is no point keeping them no more :( The recent news of Fantasica closing has left me feeling rather upset as this is the only phone game ever to ever get me hooked. I've met so many amazing people, made amazing memories with the game, made a fantastic collection without needing to spend a fortune and I truly am gutted to see it all go really.

So for myself and anyone I'm making a page of special memories like first cards and others. Please take a look and enjoy my journey and I hope people who see this do the same and share their Fantasica memories. It doesn't have to end yet!
Date Started: January 4th 2013
Event: Halls of Valhalla
Player Level: 107
Title: Thirsty Demon
Best Event Rank: 20
Best Event Rank Event: Demon's Tower Revisited
Total Ally Assists: 28176
Wins to Lose Ratio: 321:678

All the first cards I've ever obtained since starting from day one! 6*, 7*, 10* and 12* were probably the most exciting times for me :)
These were dream cards that I've tried to obtain since my time here. Xiao Qiao and Saki were the first ones I ever laid eyes on and I just had to get them. I remember paying 19 pure for a Xiao Qiao back in the day and that was so hard to get xD I remember staying up all night to get her and I did. It did result in me nearly falling asleep in a class though xD
IGN:
Zhen2112
BEST MEMORY: Was an excellent old time ally and lent me Marybell6 once! Pity I can't say goodbye to him!
IGN:
SoulPlatinum
BEST MEMORY: I don't remember much but I do remember that she/he was an amazing ally!
IGN:
Zodd09
BEST MEMORY: I don't remember much but I do remember the she/he too was an amazing ally!
IGN:
NovaEclipse
BEST MEMORY: A talkative ally and a great one nevertheless!
IGN:
Georgioskousou
BEST MEMORY: An ally who sold me lots of pullables xD
IGN:
DjtheSun
BEST MEMORY: I don't remember much but I do remember the she/he too was an amazing ally!
IGN:
colacoal
BEST MEMORY: I don't remember much but I do remember the she/he too was an amazing ally!
IGN:
CvN
BEST MEMORY: I felt like I only knew her/him for a short while but they were amazing! I still want their Ulfric >3>
IGN:
jojoloe
BEST MEMORY: An ally only known for a short while. Shame we couldn't make a deal for that Belisama!
IGN:
zeromoodex5
BEST MEMORY: He was a great ally and I'll always remember his 'naked collection' xD
IGN:
dflenz
BEST MEMORY: My kpop talking ally! I'll never get him to love 2NE1 like me xD
IGN:
asaintjacques
BEST MEMORY: Very recent ally who helped me in a recent event. I know he has a very rare monster collection. Pity I couldn't get to know him as well :(
IGN:
Call-Life-Alert
BEST MEMORY: I don't remember much but I do remember the she/he too was an amazing ally!
IGN:
animefreak4257
BEST MEMORY: One of my most oldest and loved allies! Literally has stayed with me so long and has helped me throughout this game - We've got on really well! Please stay in touch :')
IGN:
lillyhopes
BEST MEMORY: She's such a lovely person and I feel like I haven't got to know her as well as my other allies but I know I can still call her a fantastic ally! I remember she sold me lots of cards xD
IGN:
AnimeWiz47
BEST MEMORY: I haven't spoken to him lots but when I have he's talkative and funny. Give me your Lactea already :p
IGN:
XtreemShot117
BEST MEMORY: A new ally to me and a newbie to Fantasica and got speaking to him and she/he is a cool person! Shame you couldn't really get to fully experience Fantasica :(
IGN:
blackava
BEST MEMORY: Such a nice ally and has stayed with me for a long time now :') Thank you!
IGN:
iandriusaityt
BEST MEMORY: I don't remember much but I do remember the she/he too was an amazing ally!
IGN:
AzureSapphire
BEST MEMORY: I've known Azu from the 'early' days of Fantasica. She's the most nicest player ever and has an obsession with expensive monsters :p I think we became really good friends because she let me album Ethelred 6 when albumin was still a popular thing. Took a lot of trust but I'm so thankful. She keeps me envious with all her fancy leads xD Please keep in touch!
IGN:
cherrytree97
BEST MEMORY: I've known Cherry for a fairly long time now and I always love talking to her when I can. She had a unique collection of cards that I always wanted xD I never forgot your Vega :') Shame you keep her longer than this.
IGN:
Cliosportman
BEST MEMORY: I allied you during a panel event and somehow we still stayed as friends so I'm glad :) Not very talkative but you were always a great assist. Its a shame we couldn't talk more >:
IGN:
Jrakeon
BEST MEMORY: This guy helped me out so much when I've needed it and he's so funny to talk to. I like to put 'smelly' on his wall from time to time - cause he's smelly xD JK LOL. But yeah, I've got to know him for a long time now and I'm also super happy he got his ultimate DC Tiamat. I wonder if he'll A4 her before he leaves haha. Please stay in touch!
IGN:
Bunny-61
BEST MEMORY: An ally who I only added very recently but she's so good! Great sales person and a great ally. She helped me out a lot with getting my first 12* so I owe her to that one! Its a real shame we couldn't stay allies for longer...All those mons you killed that I wanted xD
IGN:
jinglesforever
BEST MEMORY: I don't remember much but I do remember the she/he too was an amazing ally!
IGN:
(preservatives)
BEST MEMORY: I don't remember much but I do remember the she too was an amazing ally! Congratz on getting your DC Horakty
IGN:
yagami678
BEST MEMORY: I don't exactly remember how we became allies but I'm so glad we did :D She's done a lot for me and I mean a lot. She's incredibly generous with a treasure trove of an inbox xD I'm still waiting on that wiki update xD The one memory I can remember with you is getting you an Unus Mundus a really long time ago but as well as that your so great to talk to :) Please stay in touch!
IGN:
scilixx
BEST MEMORY: We've only been short allies but we became allies because I BOUGHT SO MANY PULLABLES OFF HER! I blame you for filling my inbox - She sold too many good ones and left me poor xD Aside from her business side, she was a great ally to chat to and she actually helped me out when I was desperate for getting my first 12* so thank you for that :') Stay in touch on the Fantasica Trade Page ok?!
IGN:
nerozerox
BEST MEMORY: THE GREAT, ALMIGHTLY LOLI KING! Literally his how I will remember you ok :( He was so cool to talk to all the time and was very funny. Despite owning Bartolomea before, his Bartolomea is the only one I want xD
HONOURABLE MENTIONS:
IGN:
KateJW
BEST MEMORY: I knew Kate from when I started and she gave me my first 5* Elena. Unfortunately when I joined back last year, I heard she quit so its a real shame I can't say bye to her.
IGN:
YuyukoSaigyouji
BEST MEMORY: Yuyu is probably the player that makes me the most envious with her collection, but aside from that, if it wasn't for her and her generosity, a lot of my DC and card achievements wouldn't ever have happened so thank you! Dissidia and Ariadne is still my fondest achievements from you. P.S Still haven't forgotten about Toualla deal xD
Neolith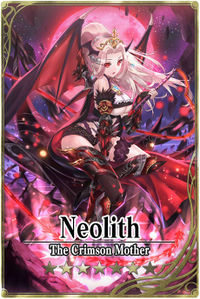 If anyone wants to help me get my ultimate DC please do! I'd totally appreciate leading her and quitting!

Artist REDBRAIN's card collection :) My favourite collection!