January Monthly Rankings
From Unofficial Fantasica Wiki
January Monthly Rankings
Start Date
2018-01-05
End Date
2018-02-04
Event Type
Monthly Rankings
Event Cards
Daikyo
Info
In January 2017, Fantasica held a Monthly Ranking event, where all players could compete to earn rewards.
Ranking Points were earned by participating in the five events between January 05, 2017, and February 04, 2018:
For each of these events, there was also a weekly Bonus Ranking for additional rewards. The Bonus Ranking did not affect the amount of Ranking Points earned for the Monthly Rankings.
The featured units for both the Bonus Rankings and the Monthly Rankings were changed every month.
Points
Points were awarded based on rank during the four events.
| Rank | Monthly Points |
| --- | --- |
| 1st | 50 |
| 2nd - 5th | 40 |
| 6th - 10th | 34 |
| 11th - 20th | 28 |
| 21st - 30th | 23 |
| 31st - 50th | 18 |
| 51st - 100th | 14 |
| 101st - 150th | 10 |
| 151st - 200th | 7 |
| 201st - 300th | 5 |
| 301st - 500th | 3 |
| 501st - 1000th | 1 |
Rewards
Monthly Rankings
| Rank | | | | |
| --- | --- | --- | --- | --- |
| 1st | Daikyo x 5 | Aurora Essence x 20 | Celestial Orb x 20 | Nerio x 6 |
| 2nd - 5th | Daikyo x 4 | Aurora Essence x 20 | Celestial Orb x 20 | Nerio x 6 |
| 6th - 10th | Daikyo x 3 | Aurora Essence x 20 | Celestial Orb x 20 | Nerio x 5 |
| 11th - 20th | Daikyo x 2 | Aurora Essence x 15 | Celestial Orb x 15 | Nerio x 5 |
| 21st - 30th | Daikyo x 1 | Aurora Essence x 10 | Celestial Orb x 10 | Nerio x 5 |
| 31st - 100th | | Aurora Essence x 10 | Celestial Orb x 10 | Nerio x 5 |
| 101st - 300th | | Aurora Essence x 5 | Celestial Orb x 5 | Nerio x 4 |
| 301st - 500th | | Aurora Essence x 3 | Celestial Orb x 3 | Nerio x 3 |
| 501st - 1000th | | Aurora Essence x 1 | Celestial Orb x 1 | Nerio x 2 |
| 31st - 100th | | | | Nerio x 1 |
| | Unit | ★ | Type | C | S | R | | | | Skill | Source |
| --- | --- | --- | --- | --- | --- | --- | --- | --- | --- | --- | --- |
| | Daikyo | 11 | Missile | 35 | A | 150 | 372,015 | 434,745 | 335,789 | Knockback, Melt Armor | January Monthly Rankings |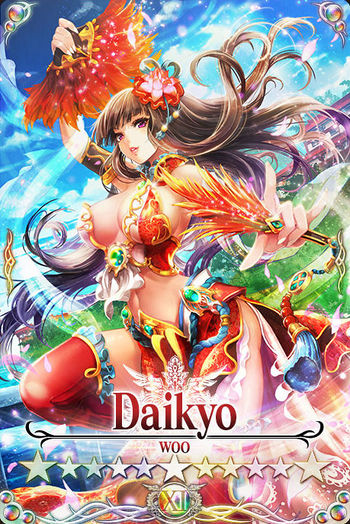 Event Rankings
Monthly Rankings based on rank as of February 5th, 2017 at 10:00pm PST
Rank 1 to 10
| Rank | Player | BT |
| --- | --- | --- |
| 1st | Tsunjin | 202 |
| 2nd | KonCep | 184 |
| 3rd | Cz75b | 152 |
| 4th | Xavier0Dragon | 140 |
| 5th | tholoongwei | 138 |
| 6th | FB:(679718163) | 134 |
| 7th | wchristensen6 | 133 |
| 8th | yammyyaggs | 128 |
| 9th | rika | 126 |
| 10th | thundercock24 | 118 |